Uganda is a beautiful country with diverse natural and cultural attractions, such as the source of the Nile, the mountain gorillas, the national parks, the vibrant nightlife and the friendly people.
If you are planning to visit Uganda, the Pearl of Africa, for tourism you will need to a tourist visa.
The Uganda tourist visa allows entry into Uganda for all visitors who are visiting Uganda to see gorillas, and wildlife, experience the rich culture, and more. Citizens of most countries will be required to get an entry visa that authorizes them to visit and stay in Uganda for a given period of time.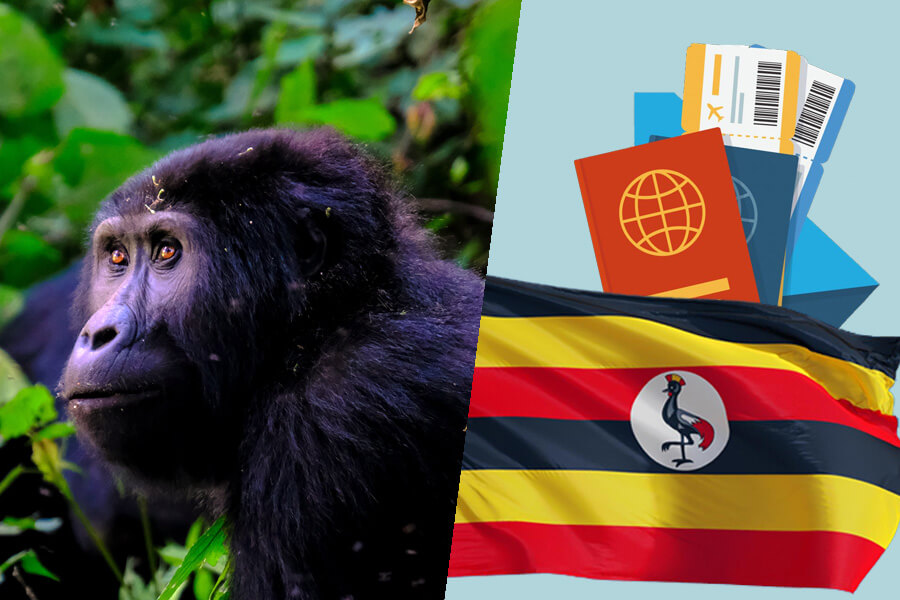 Types of Uganda Visas
Uganda has 3 types of visas that you can apply for, and they each have a different price.
1. Single Entry Visa
This visa is granted to travelers coming to Uganda once and is valid for 3 months. Once you have arrived in the country and cleared immigration, the visa cannot be used again.
This visa costs 50 USD
2. Multiple Entry Visa
This is granted to travelers who travel to Uganda frequently. This can be granted for 6 months, 12 months or 24 months and allows the holder multiple entry for the duration.
This visa costs as follows;
6 to 12 months: USD 100
24 months: USD 200
3. East African Tourist Visa
The East African Tourist Visa is a multiple-entry visa for Uganda, Rwanda, and Kenya. This visa allows you to move freely through any of the 3 countries with one visa.
Any of the 3 countries can issue the visa, and it will be accepted at all entry ports however, the issuing country should be your first entry point.
The visa is valid for 90 days and is not renewable upon expiry or upon exit from the block (Kenya, Uganda, Rwanda).
This visa is perfect for people whose travel plans involve visiting any combination of the 3 countries for various attractions and experiences. We highly recommend the East African Tourist Visa for our combined safaris that visit 2 or 3 of the countries covered by the visa.
The East African Tourist Visa costs 100 USD
Related article: East African Tourist Visa. 1 visa for visiting 3 countries.
Summary of visa types and their corresponding visa fees.
| | | |
| --- | --- | --- |
|  # |  Visa Type |  Visa Fee |
|  1. |  Single Entry Visa |  50 USD |
|  2. |  Multiple Entry Visa |  100 USD |
|  3. |  East African Tourist Visa |  100 USD |
Uganda Visa Requirements
Before applying for your Uganda tourist visa, you should have the following things ready and prepared.
Passport with at least 6 months of validity
Yellow Fever Vaccination Certificate
Recent Passport-sized Photo
Return Ticket
Copy of your passport
A travel itinerary or booking
A hotel booking or reservation (if any other accommodation, provide an address)
Visa fees (a receipt of payment). You can use a bank card directly online.
Uganda Visa Application Process
All people intending to travel to Uganda are required to apply and obtain a visa online from the Immigration Portal.
You will simply fill out the form, upload the required documents for verification, make payments for the visa fee and then wait a day or two for your visa approval letter.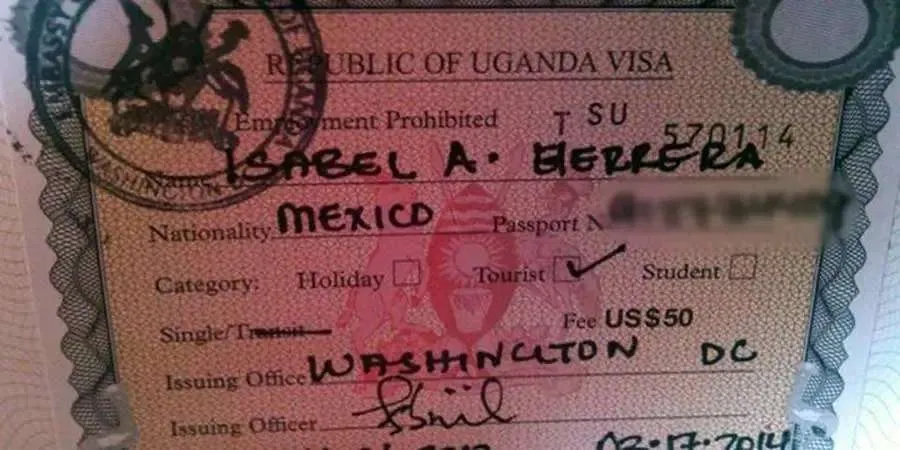 Upon approval, an approval letter will be generated and emailed to you. You should print it out and and present it at the immigration office or border point when you arrive in Uganda.
Uganda Visa-free countries
While all other nationalities need a visa, citizens of the following countries can enter Uganda without needing a visa and stay for 90 days. If you come from any of the following countries, you simply show up with a valid passport that still has at least 6 months of validity.
| | | | |
| --- | --- | --- | --- |
|  Angola |  Antigua & Barbuda |  Bahamas |  Barbados |
|  Belize |  Burundi |  Comoros |  Cyprus |
|  Eritrea |  Eswatini |  Fiji |  Gambia |
|  Ghana |  Grenada |  Hong Kong |  Ireland |
|  Jamaica |  Kenya |  Lesotho |  Libya |
|  Madagascar |  Malawi |  Malaysia |  Malta |
|  Mauritius |  Rwanda |  Saint Vincent and the Grenadines |  Seychelles |
|  Sierra Leone |  Singapore |  Solomon Islands |  Tanzania |
|  Tonga |  Trinidad & Tobago |  Vanuatu |  Zambia |
|  Zimbabwe | | | |