Bigodi wetland Sanctuary is a true birder's paradise with about 138 bird species & the commonly known as the home of the Great Blue Turaco.
The Bigodi Wetland Sanctuary is a must-visit for everyone on a Safari in Uganda because of its richness in biodiversity and scenic beauty. A 4 – 5km long walk will take you through this important wildlife corridor of Kibale Forest and will take up to 3 hours.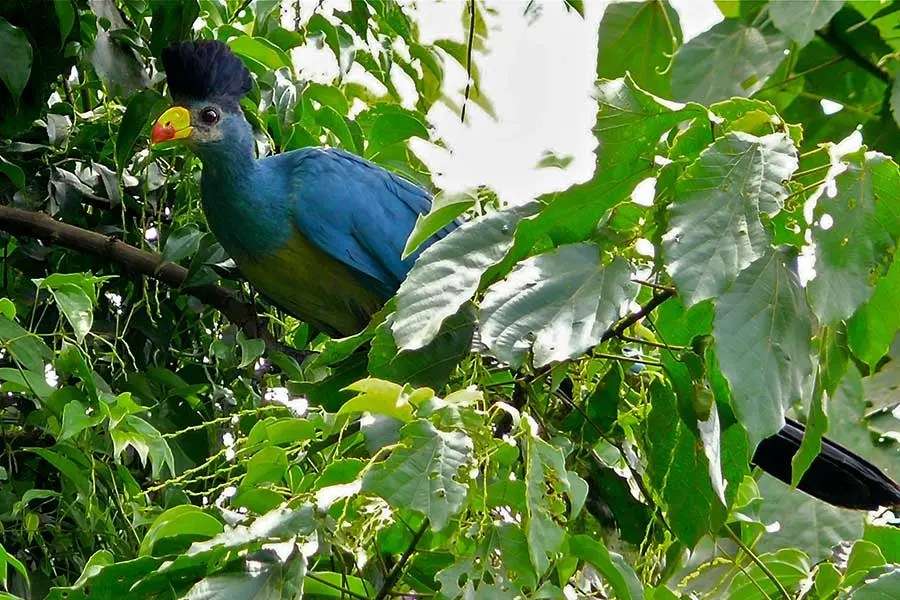 The name "Bigodi" was originally got from a local Rutooro word 'kugodya' which means 'to walk tiredly or wearily'. Visitors used to reach the Bigodi swamp on foot and were tired at most times to go on and visit the Jungle, so they decided to rest here.
The Local tour guides at Bigodi are very knowledgeable and will take you on an interpretive tour as they escort you through the lush green vegetation. This is the perfect opportunity for you to view the wildlife from the forest pathways, boardwalks and atop a tree house tucked high in the canopy.
The wetlands can be toured only with a trained Sanctuary guide. The best time to go for the walk is during morning hours and afternoon hours & it lasts up to 3 hours, but visitors are free to enjoy the walk whenever they like.
Located outside Kibale Forest National Park is Magombe Swamp which also hosts 8 species of primates including the black-and-white colobus, grey-cheeked Mangabey, red-tailed, l'hoest's and blue monkeys, and olive baboons.
Bushbucks and mongooses can also be found here. Bigodi wetland sanctuary was set up to preserve the exclusive environmental features along with the wetland and is managed by the local community.
Besides the Guided Nature Walks in the Bigodi Wetlands Sanctuary, KAFRED offers a well cultural experience.
KAFRED is a community-based organization that promotes local livelihoods and biodiversity conservation through ecotourism.
The Bigodi village walk takes up 3 to 4 hours and costs around $20 for foreigners, 15$ for foreign residents & 5 $ for Ugandans. The Sanctuary is located 6km south of the Kibale forest national park visitor center at Kanyanchu