Lake Kivu is one of the African Great Lakes. It lies on the border between the Democratic Republic of the Congo and Rwanda and is in the Albertine Rift, the western branch of the East African Rift. Lake Kivu empties into the Ruzizi River, which flows southwards into Lake Tanganyika.
Lake Kivu covers a total surface area of 2730 km2 with a volume of 560 km3 and lies at an elevation of 1463 m above sea level. This lake is a shared resource between Rwanda and the Democratic Republic of Congo whose bed sits upon a rift valley that is slowly being pulled apart, causing volcanic activity in the area, and making it particularly deep: its maximum depth of 485 m is ranked nineteenth in the world.
Lake Kivu, unique worldwide, is a freshwater lake rich in dissolved methane and carbon dioxide gases in its deep water with hot springs on the surface at some points. It is a meromictic lake whose water never mixes due to the difference in density of different layers and thus preventing outbursts of deep dissolved gases.
On the other hand, gases from deep recharge and accumulate in the deep layers of the Lake. Therefore, methane gas exploitation helps to reduce the risk of gas and it allows the supply of a significant amount of energy; for the socio-economic benefit of the population.
Also, fisheries and fishing in Lake Kivu have gained substantial economic and nutritional importance for the lakeside human population.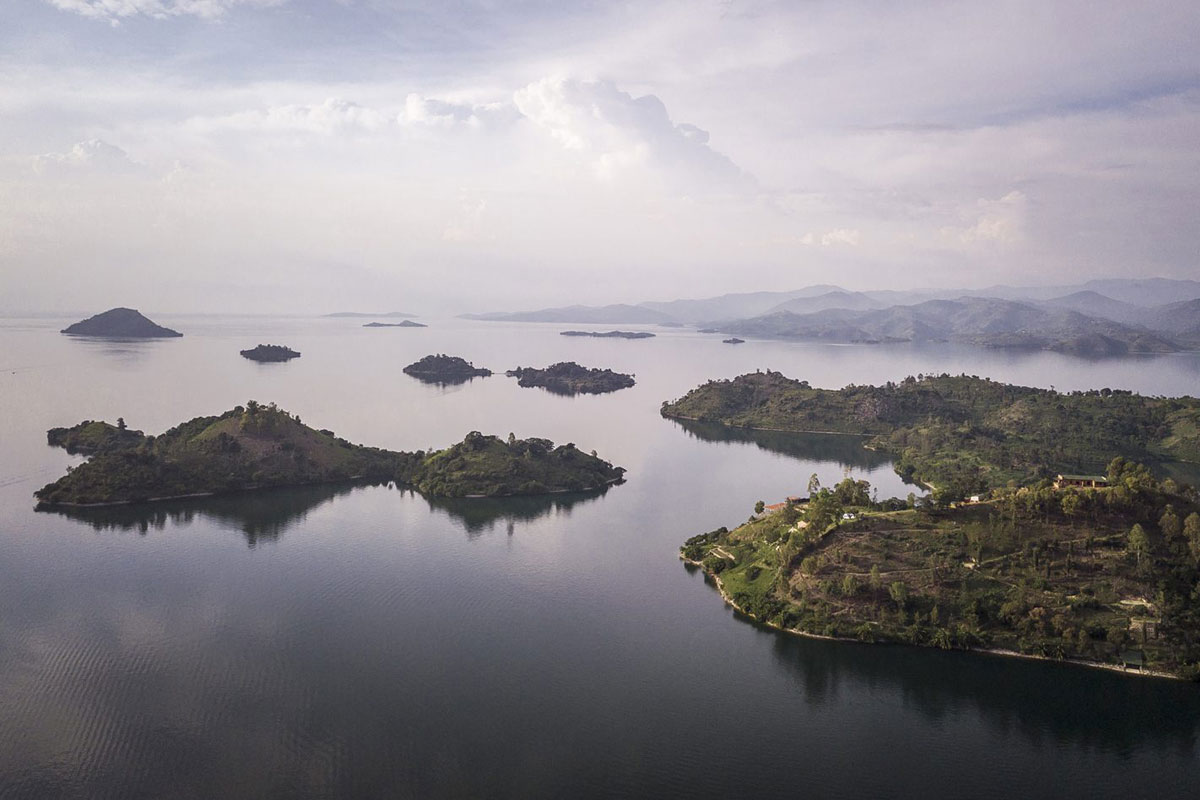 Areas of Interest Near Lake Kivu
Gisenyi (Rubavu)
Gisenyi (also referred to by its new name Rubavu) is a large town spread over several hills on the northern edge of Lake Kivu. Once a colonial beach resort of note, Gisenyi's waterfront is lined with fading old mansions, some decent hotels including some of the international standard, and trendy bars on the lakeshore, ideal for a sundowner cocktail. Nearby Rubona is also home to some pretty lakeside hotels.
Kibuye (Karongi)
About 100km south of Gisenyi, Kibuye (also known by its new name Karongi) is probably the prettiest of Lake Kivu's towns. It's a verdant, tropical spot surrounded by hills covered in eucalyptus and pine. If you're visiting in August, you may catch thousands of yellow-billed kites here flying over Lake Kivu on their annual migration. Most of Kibuye's hotels are in beautiful locations overlooking the lake and facing the sunset.
Cyangugu (Rusizi)
At the southern end of Lake Kivu, Cyangugu (pronounced 'Shangugu' – its new name of Rusizi is easier to pronounce!) is an old border town whose fading façades tell of its past as a vital trading gateway. It makes for a convenient base if you want to combine a stay on Lake Kivu with a Chimp tour in Nyungwe Forest National Park, which is only 45 minutes away, although there are limited hotel options.
Gisenyi (Rubavu) and Cyangugu (Rusizi) are both close to the DRC border so it's wise to check the FCO's travel advice before visiting either.