Rafting & white water rafting are recreational outdoor activities that use an inflatable raft to navigate a river or other body of water.
This is often done on whitewater like the River Nile or different degrees of rough water, and generally represents a new and challenging environment for participants. A good rafting experience comes with good teamwork and dealing with risks.
In the mid 1970's this activity was developed as a leisure activity, evolving from individuals paddling 10 feet (3.0 m) rafts with double-bladed paddles to multi-person rafts propelled by single-bladed paddles and steered by a tour guide at the stern. Rafting is considered an extreme sport and can be fatal.
White Water Rafting Experience
You can enjoy a white water rafting experience in Jinja – Uganda for a full day or 2 days based on what you would prefer. It's also available for groups & families as well.
There is pre-trip safety training where you'll get to learn what to do if you end up in the water. If you don't know how to swim you can please tell the guide and he'll give you extra training if needed.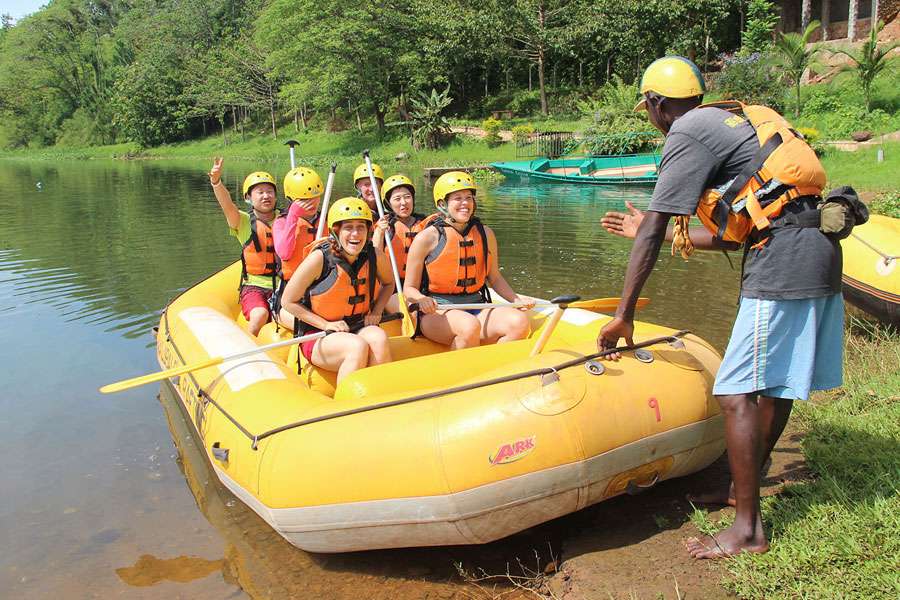 Your rafting guide will help you choose which line to take at each rapid – the easy line or the wild one! A safety boat is there on every trip and is always available for those who want to avoid ending up in the water. The water is pleasantly 260 C and be ready to get soaked wet from head to toe on grade 3 and grade 5 trips. Also, expect flashes on float trips.
It's advisable to wear board shorts, a long sleeve t-shirt, flip flops or sandals that you don't mind getting wet.
Safety: Life jackets and helmets specifically designed for rafting on Grade 5 rivers are provided by the rafting company which we use. The grade 3/5 trips are accompanied by safety kayakers and an oar boat with a comprehensive first aid kit.
All rafting guides and staff are first aid trained and have vast experience from white water rafting. Their Safety Operating Procedures are regularly reviewed and also train rescues & emergencies regularly.
Age Limits: The minimum age for grade 3 rafting trips is 14 years and for grade 5 rafting trips it is 16 years.

Kayaking the River Nile
Tandem Kayaking with the most knowledgeable guide to take you down the rapids of the River Nile. You can also try River Surfing, another option at Jinja along the River Nile.
Jinja is the source of the mighty River Nile, the world's longest river, which winds its way from here through Sudan and Egypt to the Mediterranean.