Bwindi Impenetrable National Park lies in southwestern Uganda on the edge of the great rift valley. Bwindi became a National Park in 1991 and was declared a UNESCO world heritage site in 1994.
Spread over a series of steep hills and valleys, Bwindi is covered by one of Uganda's most biologically diverse natural rain forests that dates back more than 25,000 years.
The diverse ecosystem of the Bwindi Forest has made it the perfect home for endangered mountain gorillas. Bwindi is well known for the endangered mountain gorillas, and therefore attracts a lot of visitors to Uganda.
This biologically diverse Bwindi also provides shelter to a further 120 mammals, including several primate species such as chimpanzees, monkeys, as well as elephants, and duiker antelopes. There are around 350 species of birds hosted in this forest, including 23 Albertine Rift endemics.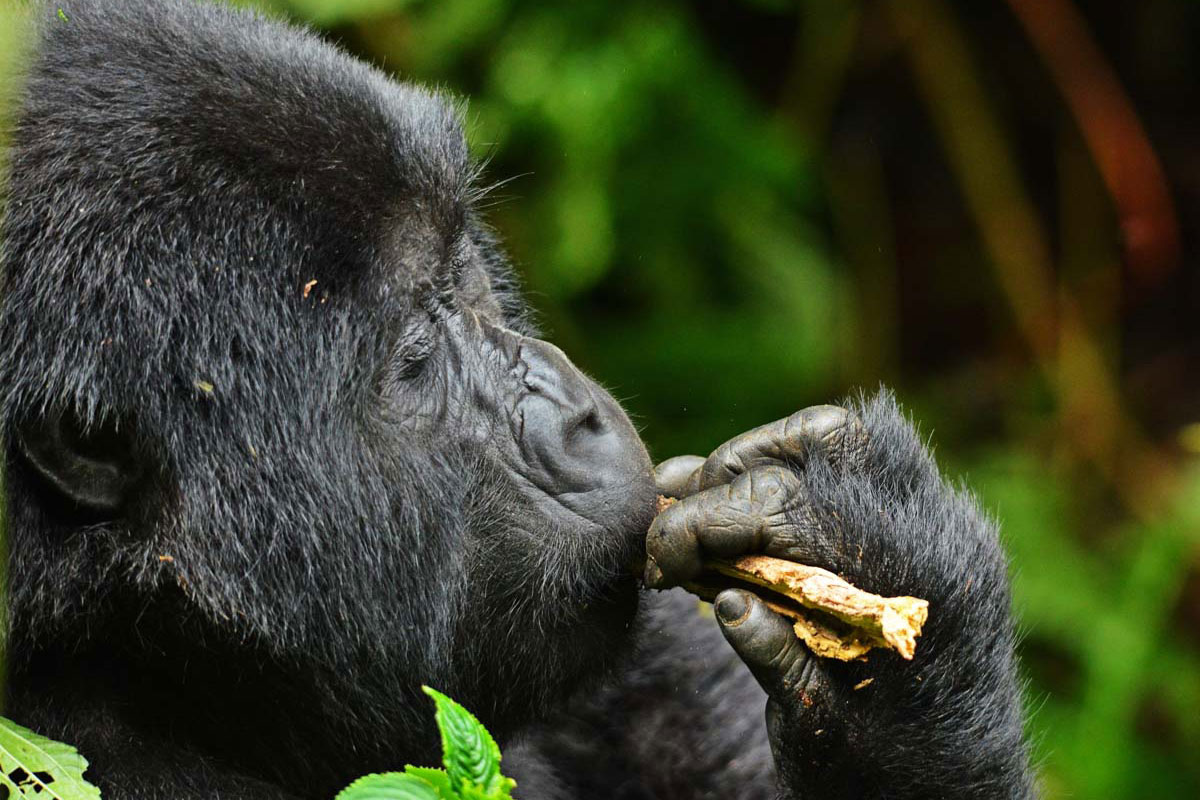 Bwindi is a major biodiversity and responsible tourism hotspot that attracts thousands of people from all around the world for gorillas and other activities.
Things to do in Bwindi Impenetrable NP
1. Gorilla Tracking
Gorilla tracking (or Gorilla trekking) is the main activity for which many people visit Bwindi Impenetrable National Park. Gorilla trekking involves hiking through the thick forest until you find the designated gorilla family which you get to watch and visit for 1 hour before heading back.
While the hike is not easy, the experience is unforgettable. On your gorilla trek, you will learn from the rangers about the mountain gorillas and the diverse environment they live in,
2. Gorilla Habituation
Gorilla Habituation is when you track gorillas that are not yet fully 'open' for tourism. Before Gorillas can be seen by tourists, they have to get used to seeing humans on a regular basis so that they do not pose any risk to humans. This is called gorilla Habituation.
You can go for a gorilla habituation experience and spend up to 4 hours with a family of gorillas that is still getting used to seeing humans.
3. Bird Watching
Bwindi Forest is home to more than 350 different species of birds, some of which can only be found in the Albertine rift and others not found anywhere else in Uganda. Mubwindi Swamp in Ruhija Sector is hailed by many birders who come to Uganda for bird-watching safaris.
4. Batwa Cultural Experiences
The Batwa people are a minority tribe that used to live in Bwindi Forest as hunter-gatherers before it was designated as a national park. You can learn how the Batwa people used to live harmoniously with the forest without destroying it, as well as their culture and norms.
5. Village Walks
Village Walks are great for experiencing the area surrounding Bwindi. The communities live near the park boundary and on these village walks you get to meet the locals as they go about their day – whether it is children playing soccer, women making local crafts, or men tending to their gardens.
6. Nature Walks / Hiking
There are several nature trails that can be taken by those who want to explore the impenetrable forest. These trails go through various beautiful spots with splendid scenery, chirping birds, waterfalls, and colorful butterflies.
7. Cycling / Mountain Biking
You can bike through the surrounding villages or follow a trail through the park so that you can get to see some animals and birds along the way. Mountain biking is often done in the Buhoma sector following the 13-kilometer trail to the Ivi River.
Getting To Bwindi Impenetrable NP
Bwindi Impenetrable National Park is located around 480 kilometers west of Kampala – Uganda's capital city. Driving Directly from Kampala can take around 8 hours as you pass through the countryside with small towns, farms, swamps, plantations, and cattle ranches.
Alternatively, guests can go to Bwindi by taking a local domestic flight from Entebbe. There are 2 nearby airfields in Kihihi and Kisoro where Bwindi is about 1-hour drive away.
Bwindi can also be easily accessed from the other national parks in Uganda by both road and air. The daily scheduled flights that go to Bwindi can also connect to other parks such as Queen Elizabeth National Park or Semuliki National Park.
Accommodation in Bwindi Impenetrable NP
Bwindi Impenetrable is a premier destination that receives many tourists and therefore has a well-developed accommodation infrastructure for the visitors. There are options for various budgets and preferences.