As you think about coming for a trip, there are some things that should be on your Uganda safari packing list. With so much to see, do and experience, you will be part of the many thousands of travelers visiting the pearl of Africa.
Most tourists come to see gorillas, chimpanzees, savannah wildlife, local culture, beautiful scenery and so much more.
Depending on what you want to do for your Uganda Safari Holiday, part of the preparation involves what you will pack to carry with you. In this article, we'll take a general look at what you should pack for a Safari trip to Uganda.
Since each person and trip is different, we'll advise you on the specific packing list for your safari depending on your exact itinerary, schedule, and other more nuanced details.

Uganda Safari Packing List
1. Clothing
Uganda is generally sunny and warm all year round and therefore light clothing will be sufficient for most of your trip. Long sleeve shirts/tops and pants are ideal especially for the mornings and evenings when mosquitoes and other bugs get active. Ideally, your normal warm clothing will work fine.
Since Uganda is quite religious, the public dress code is very modest and less revealing.
Depending on your safari, we'll tell you which items to pack and which ones are not necessary.
2. Shoes
Well-worn Low-cut hiking shoes are ideal for most safari activities. Since some of the hikes and activities like gorilla tracking can take quite some time, it is better to have comfortable and well-tested shoes. Any normal pair of running shoes or hiking shoes will be sufficient for you.
If you are going to get a new pair, get it ahead of time and slowly 'break it in' so that by the time you wear it for a safari, it can be comfortable to wear and walk in.
For the people going for mountain climbing adventures, especially in the snow-capped Rwenzori mountains, your packing list is going to be different and strictly aimed at mountain climbing in the toughest environment.
3. Sun protection
Uganda is located around the equator and you will need protection from the rays of the scorching sun. To protect yourself from the sun, a wide-brimmed hat, sunglasses, and sunscreen. 
The long-sleeved shirts and tops are also helpful in keeping your arms protected from the sun.
4. Rain gear
In some of Uganda's popular parks like Bwindi and Kibale, the rainforests experience rain all year round. While raingear might be completely unnecessary in the savannah parks during the dry season, the forested national parks have unpredictable weather.
If your safari involves chimpanzee tracking and gorilla trekking, you will be visiting thick rainforests where it can rain at any time of the year.
Here is an article that explores what you need to pack for your gorilla tracking safari in Uganda or Rwanda. The article looks at all the necessary items as well as the optional ones for your gorilla safari.
5. Day pack
A day pack will help you carry some things that you will need more often such as your camera, light snacks, sunglasses, extra cash, chargers, light sweater, and more. A small backpack is always better since it is easier to carry and leaves your hands free.
A day pack should be light especially when your trip involves hiking and trekking.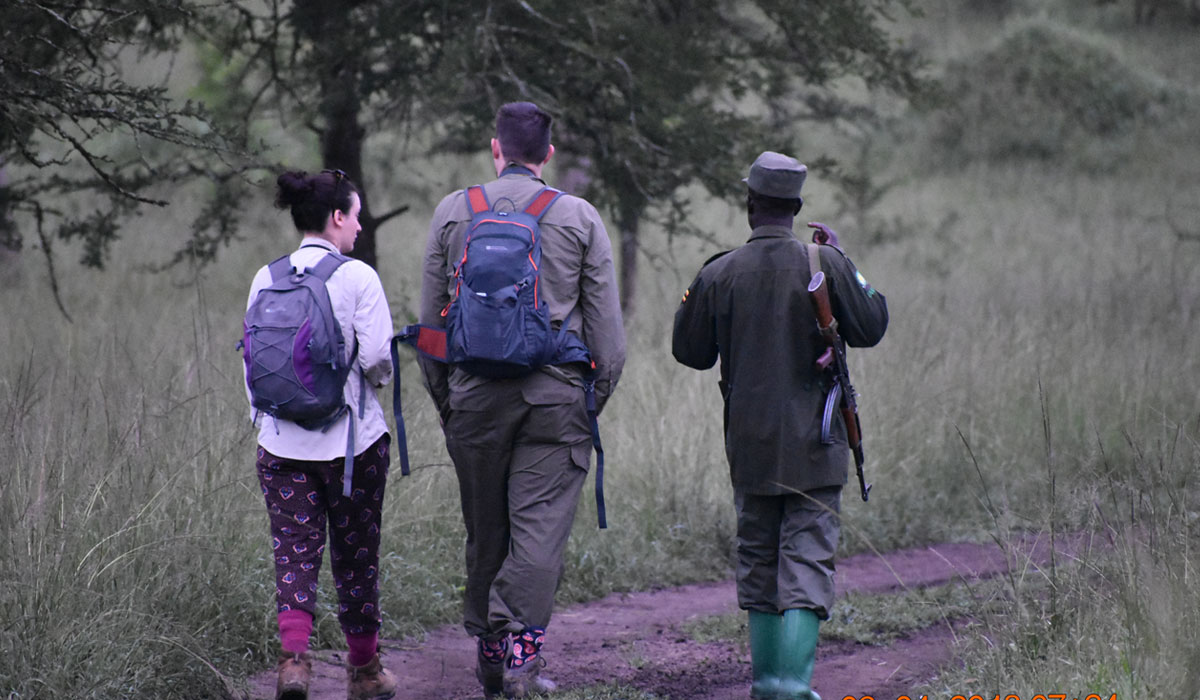 6. Regular medicine
If you take regular medication, you need to talk with your doctor to make sure you have the full prescription to last your entire trip. Depending on your medical needs, your doctor will advise you on what to take and how to stay healthy.
While you are talking with us about the details of your safari holiday, let us know of any information that might be helpful. Whether it's to do with medicine, level of activity, or dietary restrictions, you should feel safe to let us know because it helps us plan and run your safari better.
Related article: How to stay healthy while on safari in Uganda
7. Insect repellant
The wilderness has so many insects and while this is great for the ecosystem, they can be quite a bother. Having some insect repellant will keep the insects from biting you so that your focus on the experience is not disturbed.
8. Personal effects
Your personal effects can include items like toiletries, reading glasses, contact lenses, and other items that you use on a regular basis. While some of these items can be easily found in Uganda, some of your preferred brands might not be present.
If you have any questions, feel free to talk to us for confirmation in relation to your specific safari program.
9. Binoculars
In the wild, animals rarely come close to your safari car for you to view them clearly. This is why binoculars are important for any safari-goer. Whether it's the birds or distant mammals, binoculars make it easy to spot distant animals.
10. Camera
You will need to freeze some of the magical moments of your safari with us and a camera is a perfect tool. While modern smartphones are quite sufficient, a dedicated digital camera is better for capturing these moments.
The biggest advantage of a dedicated camera is being able to change lenses and capture wildlife and stunning scenery which can be quite far sometimes. If you have a camera, getting more acquainted with it will enable you to take great pictures of your holiday in Uganda.
Final Thoughts 
This article takes a general look at what you will need to consider as part of your Uganda safari packing list. Since every safari is different, we shall be advising you on what to pack depending on how long your safari will be, which places you will be visiting and when you will be visiting Uganda.
Take a look at any of our carefully planned safari packages and you will get a clear picture of how different safari packages would work for you.
Related articles