Kampala, Uganda's Capital city with an estimated population of over 2.5 million people has a lot of great activities for you as an individual or a group/couple. The people in Kampala are too friendly which leaves you no choice but to befriend them as well.
Transport and accommodation are affordable well as you can get to any place of your choice according to your budget. Shopping too is not a burden.
Things to do in Kampala.
1. Visit the Kasubi Tombs
The Kasubi tombs site is where the four Kabakas and other members of the Baganda royal family were buried. It is located on Kasubi Hill, five kilometers from Kampala city center, along the Kampala-Hoima Road.
The drive is approximately 15 minutes from Kampala city center.
2. Visit the Uganda Martyrs shrine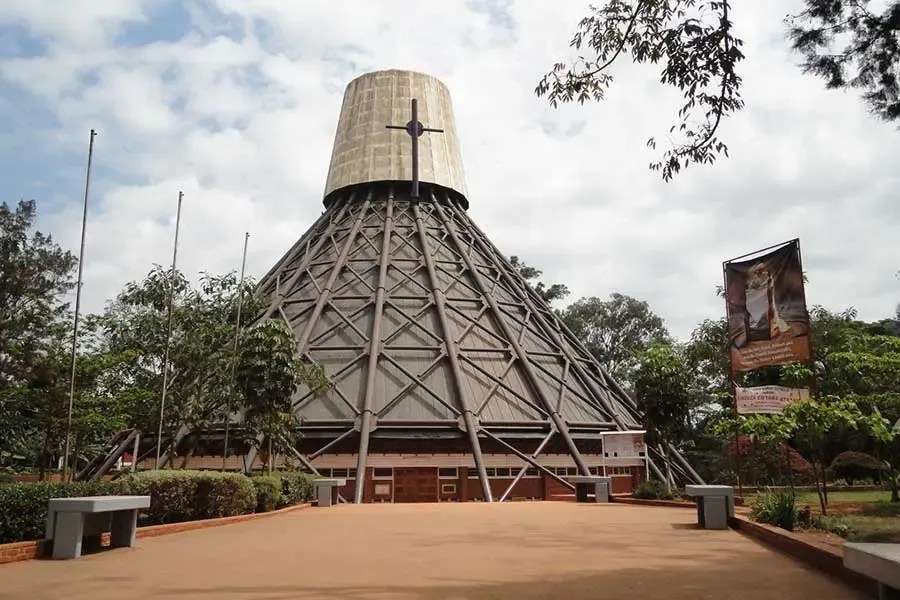 The Uganda Martyrs Minor Basilica/Shrine is a Catholic church dedicated to the Martyrs of Uganda who shed their blood because of the Christian faith in 1886. The Shrine is well known for its beautiful and unique interior and exterior, but it is especially notable for its shape and architectural plan. 
3. Visit the Uganda National Mosque (Gaddafi Mosque )
Located at Kampala Hill in the Old Kampala area of Kampala, it was commissioned by Colonel Muammar Gaddafi of Libya who gave it as a gift to Uganda, and for the benefit of the Muslim population.
It seats up to 15,000 worshipers and can hold another 1,100 in the gallery, while the terrace will cater to another 3,500.
4. Visit Kabaka's Palace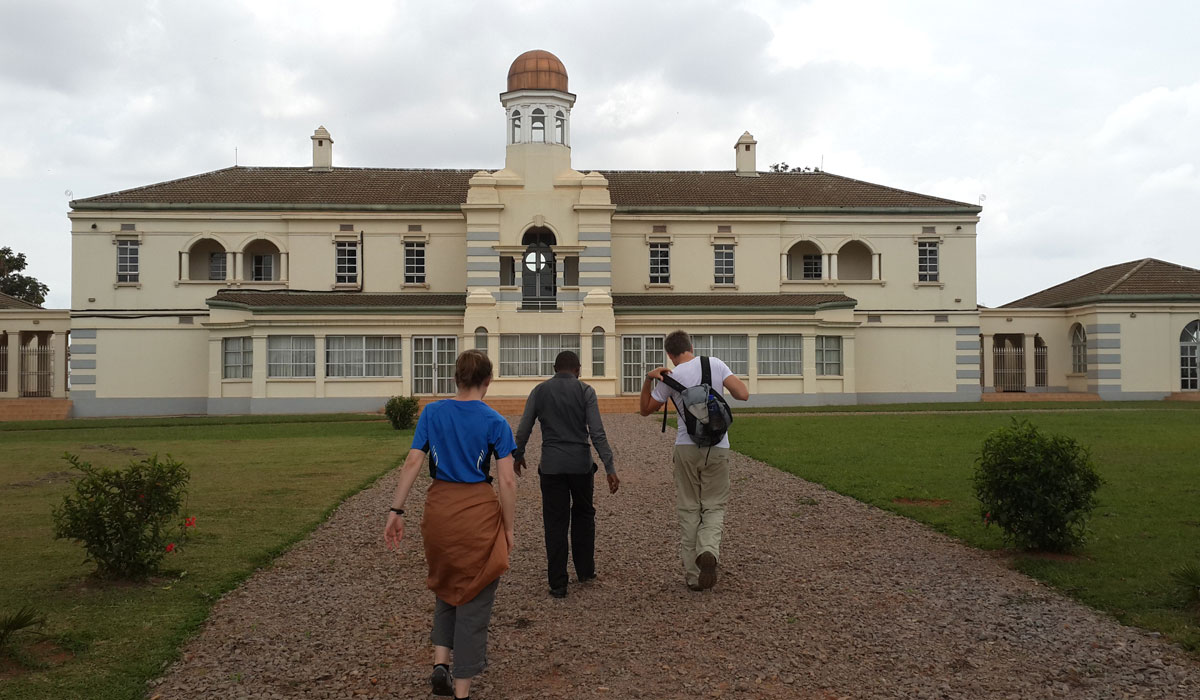 Situated on Mengo hill alongside Lubaga road within Kampala & this is the main palace in the Kingdom of Buganda, full of exciting scenes and art galleries. It is more than a fine, historical architecture that welcomes you to the pinnacle of Bulange hill.
5. Visit the Independence Monument
The Independence Monument is in many ways one of the most important pieces of Uganda's heritage. It is located along Speke road in Kampala, just opposite Standard Chartered bank.
6. Visit the Uganda Museum
One of the things you should never miss in Kampala is visiting East Africa's oldest Museum, founded in 1908. It has got a great collection of playable musical instruments, hunting equipment, weaponry; archaeology, and entomology which you cannot fail to miss out on.
At the back of the Museum is the Cultural Village depicting the different architectural and traditional lifestyles in Uganda. Other publications and a children's resource center are also found there.
7. Visit the Baha'i Temple
The Bahai temple and place are one of the top places to visit on a day tour in Kampala to learn about the Bahai faith in Uganda, observe nature, and enjoy the beautiful sceneries of Kampala city as you relax in an amazing environment.
It is also known to be a famous birding spot for most tourists as over 50 species of birds have been seen there. It is located on top of Kikaya hill, 7km on Gayaza road, in Kampala City.
8. Experience Uganda's culture at Ndere Center
Through traditional music and dance at Ndere center, you get to listen to the amazing cultural songs, dances, and unique instruments from the 56 nationalities (tribes), with humorously informative stories presented in an authentic but artistically developed spectacle. It is located on Kira road –  Ntinda, Kisasi stretch.
The Place offers a great environment to enjoy blissful artistic creativity and also offers great food, barbeque and accommodation as well.
9. Experience Kampala's Nightlife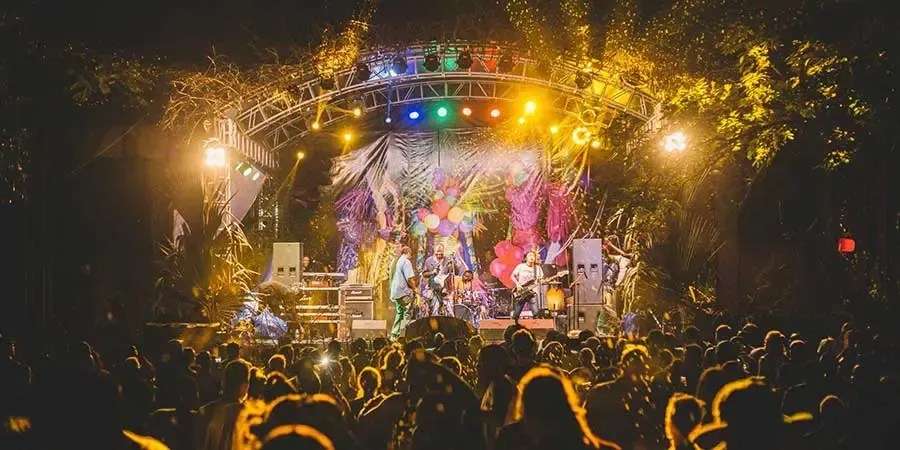 Kampala is known as the party capital of East Africa because most bars and restaurants work Monday to Monday plus the security within the town is good. Kampala has a variety of restaurants that serve Indian food, Turkish, Greek, German, American, Italian, Mexican, Japanese, Thai, Continental, and many others.
Pizza, Coffee shops, and Pastry shops are also common in the city as well with a good environment. Casinos, bars, lounges, theatres & cinemas are also available in the city and they offer a pleasant atmosphere for any kind of person.
Check out this list of 40+ of the best restaurants in and around Kampala where you can go for all kinds of delicious foods.
10. Go shopping
Last but not least, one of the most important things to do in Kampala goes downtown and buy something locally made by the people of Uganda.
Many Craft shops are available in the city or if u cannot manage to go downtown because of the congestion, you can try going to Nakasero market and other places like Ntinda, Bukoto,  and Wampewo Avenue for Crafts and Art galleries.
Malls like Acacia, Lugogo, Garden city, Freedom City, Forest mall, and Oasis mall provide a great choice for shopping lovers where you will find anything from clothes, food & electronics.
Getting Around Kampala
There are 3 main ways of getting around Kampala.
1. Boda Boda.
Motorbikes, locally known as Boda-boda carry one passenger and are quite important because of the way they can easily dodge traffic and get you to the place you're going faster. However, a helmet is a MUST as a Safety precaution.
2. Public Taxi.
Public taxi vans carry up to 14 passengers and are also common in town and in the neighboring areas. They are cheap and can take you to most of the places in Kampala.
Taxis can be got from the Old Taxi Park or the new Taxi Park, in downtown Kampala.
3. Private Car Hire.
Special hires or Cabs are also now common. The easiest way to get around cheaply is hailing an Uber private taxi via their mobile app.
You can also organize for a private car and driver to take you around Kampala. Tour operators like ourselves provide such services with all kinds of cars and very professional drivers to accompany you.
Related articles