Queen Elizabeth and Murchison Falls National Parks are Uganda's most loved and visited savannah parks where guests go to see all manner of wildlife.
Both national parks have a long and rich history and offer incredibly authentic opportunities for seeing wildlife in its natural habitat. In both parks, you can go on game drives and see animals from your safari vehicle, and you can also go on boat cruises to see big herds of hippos, buffaloes, and hundreds of bird species.
In this article, we shall try to give you all the contrasting points that can help you choose which of the 2 national parks is suitable for you. Ideally, they should both be visited, and we promise it won't be redundant. If you have to choose one, we hope this article can offer some clarification.
Why Queen Elizabeth National Park
From its name, you can guess who Queen Elizabeth National Park is named after – and the park's history goes even further to include many members of the Royal families of the United Kingdom.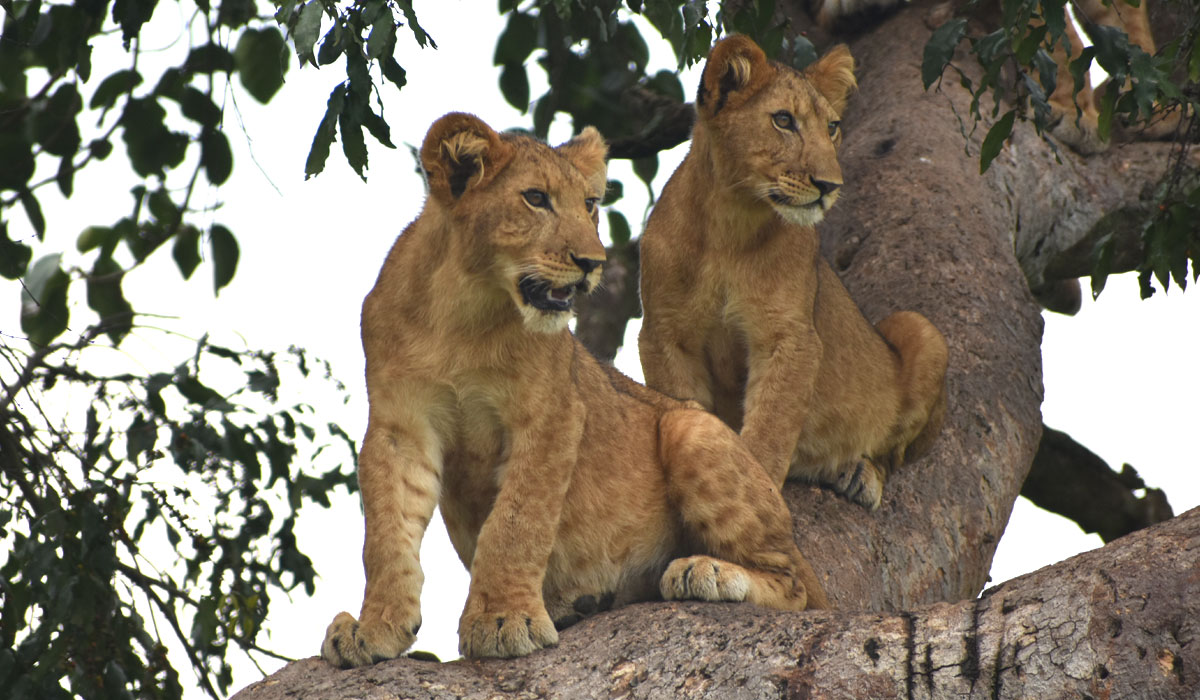 Queen Elizabeth National Park is popular for wildlife viewing safaris for people who want to see elephants, hippos, buffaloes, lions, leopards, hippos, antelopes, and chimpanzees among others. All these can be enjoyed under the backdrop of the snow-capped Rwenzori mountains.
The Mweya peninsular, the Kazinga channel, and the Ishasha sector are very popular spots in the park for viewing animals. Ishasha is extremely special for its tree-climbing lions which can not be seen anywhere else in Uganda. They are quite the sight.
Why Murchison Falls National Park
Murchison Falls National Park is Uganda's largest and oldest wildlife-protected area. The park is split into 2 almost equal parts by the river Nile on which the Murchison Falls are found as the river squeezes through a 7-meter gap to create one of the most powerful waterfalls in the world.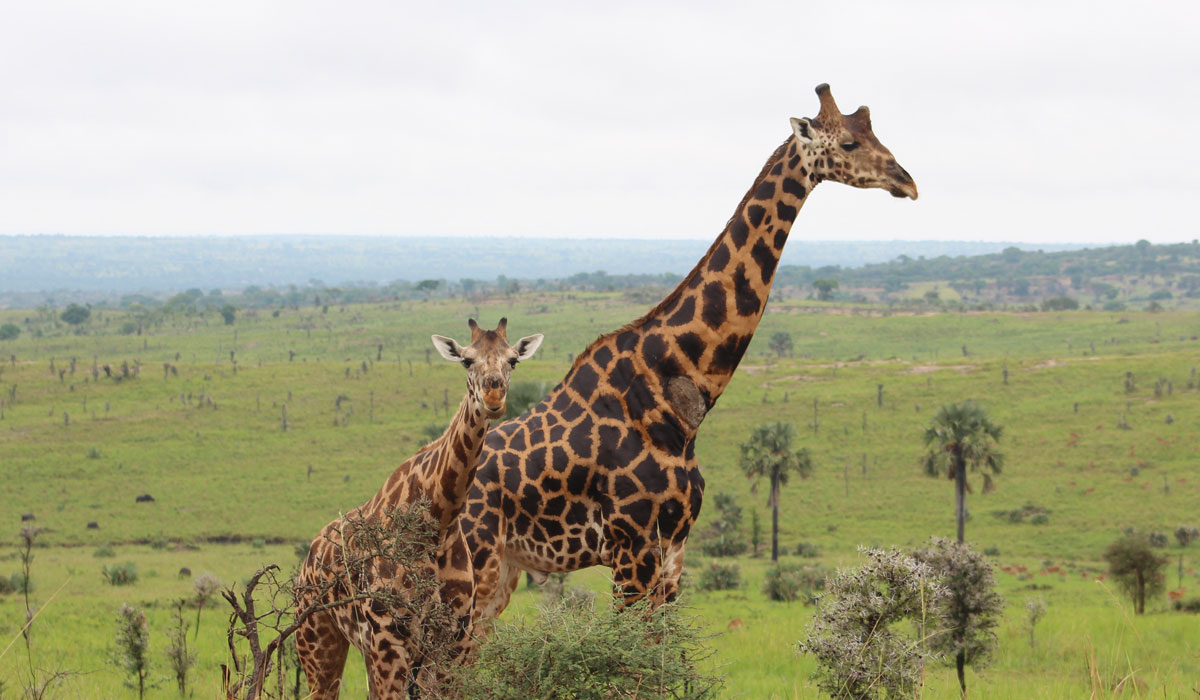 Murchison Falls National Park is very popular because of the abundant wildlife which attracts both local Ugandans and international visitors from all around the world. Guests to Murchison Falls see animals such as lions, leopards, buffaloes, elephants, giraffes, crocodiles, and many more. 
Animals can be seen on wildlife game drives in the park and on the popular boat cruise on the Nile where you will see many animals and birds on the banks.
Related Article: Top 5 things to do in Queen Elizabeth National Park
Queen Elizabeth vs Murchison Falls
If you were going to pick one of these 2 national Parks, here are some of the points you should consider – depending on what your interests and goals are.
1. Birds
Queen Elizabeth National Park is blessed with more than 600 different bird species which is much more than Murchison Falls. For avid birders who want to check more birds off their lists, Queen Elizabeth is the easy choice.
Murchison Falls does however provide better chances of catching the elusive shoebill stork. Uganda has just over 1,000 different bird species, being able to have around 60% of them in one area makes QENP the best birding destination in Uganda.
2. Wildlife
As the most popular savannah park in Uganda, both Queen and Murchison are great for authentic wildlife viewing experiences. Most animals are present in both the parks.
Queen Elizabeth National Park has tree-climbing lions in Ishasha while Murchison Falls National Park has giraffes. You have to choose between tree-climbing lions and giraffes.
3. Boat cruise
Both Queen Elizabeth and Murchison Falls National Parks have great wildlife viewing opportunities on the boat cruises on the Kazinga channel and River Nile – respectively.
The boat cruise of the Kazinga channel moves from Lake George to Lake Edward (both named after British royalty as well). The boat cruise on the Nile delta goes from Murchison Falls towards Lake Albert.
Both boat cruises are great for seeing animals and birds.
Related Articles: 5 things to know before visiting Murchison Falls NP.
4. Accommodation
Both national parks have a well-developed accommodation infrastructure and you will have plenty of choices when it comes to hotels and lodges. Whether you want a campsite, budget lodge, or a luxury establishment you will have many options.
5. Transport
Queen Elizabeth National park is located around 370 kilometers west of Kampala and it takes a 5-hour drive to reach. On the other hand, Murchison Falls National Park is around 307 kilometers and the drive will take around 4 hours.
Both parks are well served by airfields and domestic flights can be arranged from Kampala / Entebbe or any other national park around Uganda.
6. Nearby Attractions
Queen Elizabeth is located close to more attractions than Murchison. From Queen Elizabeth, one can easily connect to Bwindi, Mgahinga, Kibale, Semuliki, and Lake Mburo National Parks. Murchison Falls is close to Ziwa Rhino Sanctuary and Budongo forest. 
If your want the wildlife of both parks but with additional parks, Queen Elizabeth offers more options. However, if you want to walk with Rhinos, Murchison Falls is close to Ziwa Rhino Sanctuary – the only place you can see rhinos in Uganda.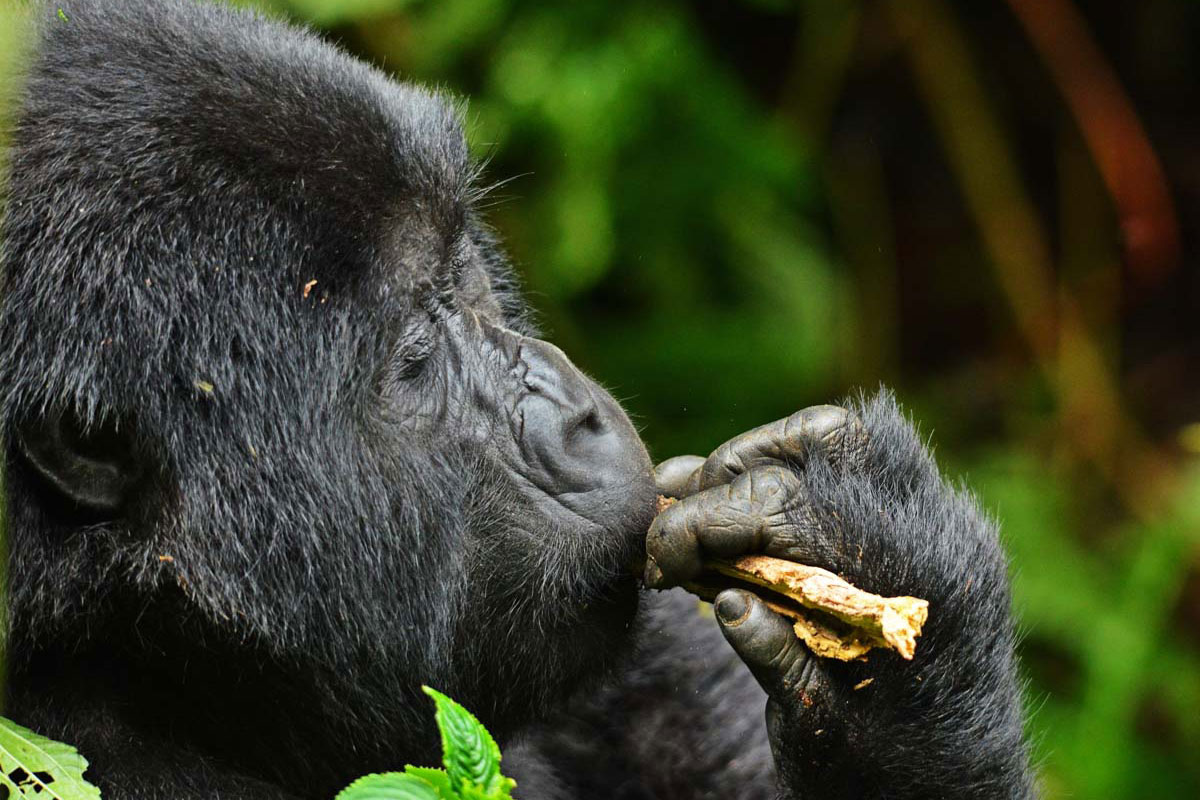 For someone who is interested in seeing mountain gorillas in Bwindi as well as some wildlife, going to Queen Elizabeth National Park is the obvious choice.
Final Thoughts
The truth is that the answer is different for each person. Whether it is the allure of the Nile or the deep history of the Kazinga channel both Queen and Murchison protect great ecosystems that are bound to make any visit memorable.
After going through this article, we hope you are leaning toward one of the parks. Ideally both national parks should be visited and compared on an individual basis. More than anything, we believe that experiences in both national parks complement each other.
Related articles