The Tree climbing lions of Ishasha are one of the incredible highlights of visiting Queen Elizabeth National Park for wildlife viewing tours.
The Ishasha Sector is a remote area in the southwestern part of Queen Elizabeth National Park, Uganda's most popular & most visited park by tourists from all corners of the world.
Those who venture this far may be rewarded with sightings of Ishasha's most famous residents – the tree-climbing lions – lounging in the branches while keeping a close eye on herds of Uganda kobs. It is also home to many buffaloes and elephants as well as the rare shoebill. 
Ishasha is also a convenient region to pass through on the way to Bwindi Impenetrable National Park. The landscape in this section of the magnificent park is considerably different from that found in other parts of Queen Elizabeth National Park.
The Ishasha Lions climb trees to protect themselves from the biting tsetse flies which are on the ground level. Also, the heat on the ground makes them escape to the tree branches to enjoy the cool breeze.
An ideal spot for these lions would be the sycamore-fig trees & acacia trees as they provide enough shelter to the tree-climbing lions even during rainy seasons.
These tree-climbing lions are scarce in Africa and once you are finally in Uganda, at Queen Elizabeth National Park, you can have a chance to have a glimpse of the amazing lions. Here you have a chance to take as many photos as you want as you are driving because there are not many cars.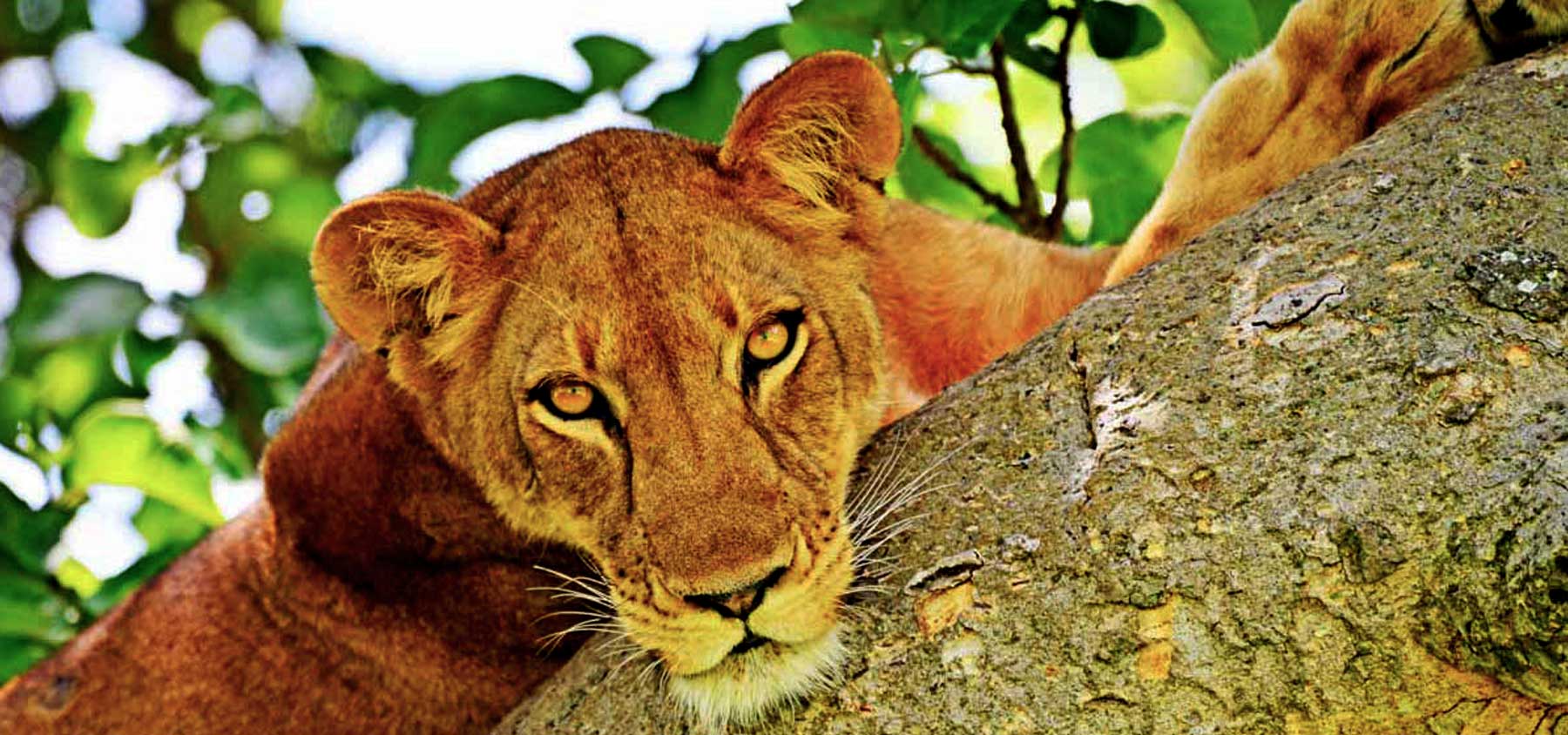 Other Wildlife like buffaloes, Elephants, antelopes, and baboons can be seen around this area. Be careful not to feed the Baboons on the way as it is not allowed by the park authorities. Also, the Elephants can be spotted from a distance without getting too close.
Apart from the tree-climbing lions in Ishasha, you can certainly enjoy seeing the leopards as they also hide in the trees and quietly look on.
Visitors that go to Queen Elizabeth National Park normally end up visiting the Mweya section of Queen Elizabeth National Park – with fewer ventures to the south which is approximately only 2 hours drive to the splendid Ishasha sector of this national Park.
This region not only unveils its resident Tree climbing lions but as well a great diversity of wildlife.
A Safari to Queen Elizabeth National Park can be arranged for you so that you can explore this majestic park to your heart's content. Take a look at this 9-days wildlife & Primates safari for some inspiration.
How to get to Ishasha for the Tree Climbing Lions
It takes approximately 2 hours to drive to Ishasha – the most interesting part of Queen Elizabeth National Park in Uganda. If you have a private vehicle or one you have hired from a tour company, you will certainly enjoy the views from Ishasha, the home of the tree-climbing lions.
The route from Katunguru may be unreliable. However, the direct road to the border post of the Ishasha is normally full of mud through the rain season. It is better described as a seasonal route and requires a 4×4 wheel drive vehicle which can be hired from us at Primate World Safaris at an affordable cost.
The road is repeatedly being maintained but it still takes some little rain to actually disorganize its surface such you end up getting delayed by other trucks which are stacked. A good solution would be to take a detour via Kihihi, Ishaka, and Rukungiri.
This actually is a more dependable route. If coming from Mweya, you are recommended to request a radio message from the park's office found in Mweya to the Ishasha Katookye gate asking for information if trucks are moving from the course of Katunguru. This will help you know if the road is accessible.
Final Thoughts
Most of our Uganda safari packages that go to Queen Elizabeth include a visit to the Ishasha sector for the epic tree-climbing lions. A safari can be planned to visit just Queen Elizabeth National Park but other attractions such as the nearby Kibale and Bwindi can be added for chimpanzee tracking and gorilla trekking – respectively.
Related articles