This luggage & packing guide gives you professional insight on what to consider when packing for your Uganda safari holiday. Properly packing for your trip is a very important aspect of your African safari holiday.
There is no single solution to the packing list anxiety because your needs are very specific to you and your trip.
With bad packing, you will miss some essential items and carry those items that you end up not using even once. Sometimes, you forget your phone's charger which can easily be resolved but forgetting regular medication can cause a bit more stress.
While any packing issues can be remedied, it is not always easy especially if the trip has already started and you are deep in the jungle and far from the services of the big city. This is why packing ahead of time gives you the peace of mind to enjoy the African safari experiences you have imagined and brought to life.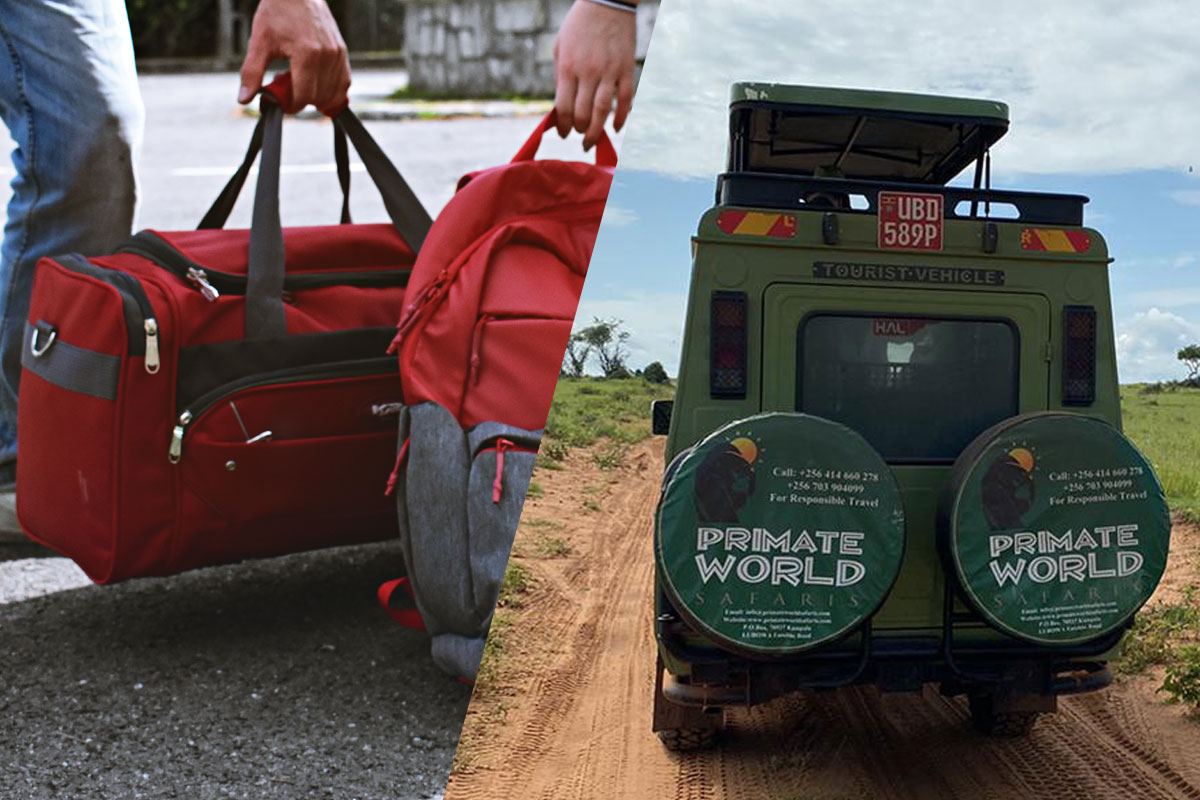 As you pack for your trip, there are 3 main considerations to have in mind. Necessity, trip length, and luggage allowances.
Pack what is necessary.
It is quite common for tourists to pack a bag that never gets opened during the trip. It is the classic case of overpacking that happens to everyone. 
Depending on the length of your trip, we always tell on how much you should pack. It is more workable to pack light and get your laundry done at one of the lodges you will be staying in.
Most safari holidays in Uganda involve seeing wildlife, chimps, gorillas, and culture. Packing for these activities is possible with 1 bag and a day pack.
Related article: Uganda Safari Packing list.
How long is your trip
Packing for a 5-day trip is not the same as packing for a couple of weeks. This is because a longer trip might have more activities that need very specific items.
A longer trip in Uganda might include activities like gorilla trekking, wildlife viewing, mountain climbing, and agricultural tours. In this case, the trip is not just longer but things like mountain climbing do require specific gear – especially if you are summiting Uganda's snow-capped Rwenzori.
Another version of a long trip is where you will be visiting several countries as part of your entire holiday. Whether you will be visiting for tourism or to check on friends and family, you should pack with all these details in mind.
Whatever your specific case is, feel free to reach out to us and we'll guide you as much as possible.
Luggage allowances
Bigger aircraft can be quite flexible on the weight allowances for your luggage as long as you pay for it. Smaller aircraft adhere to strict weight rules because of safety reasons.
Therefore, if your Uganda safari holiday involves connecting to various destinations via domestic aircraft, luggage weight is a big deal.
The safari vehicles also have a limited amount of internal space where luggage can be stored. While things can be tied to the roof rack, this is not an ideal way of carrying luggage because it could rain and some roads might be dusty.
Recommendations
When it comes to packing, there is no one-size-fits-all. This recommendation is meant to give you a rough idea of how to approach your packing. It should work for most people visiting Uganda for trips of under 15 days.
We recommend carrying a barrel or soft bag of not more than 15 kilograms alongside a smaller backpack day pack. The bigger bag can carry the majority of your stuff while the day pack carries the items you need for the day such as your camera, phone, documents, hat, sunglasses, etc.
Barrel / soft bags are better for utilizing the space in vehicles which is not the case for hard bags. 
Your safari items can be repacked into a softer barrel/duffel bag before you start your safari. The hard bag can be kept at the hotel in Kampala or Entebbe to be used later before the flights out of Uganda.
Final Thoughts
The 2 most common mishaps of packing for a trip are carrying necessary items as well as leaving important items. We advise that you should follow the advice on your itinerary and start packing at least 15 days before your safari trip. This will give you enough time to remember everything, and seek our advice.
When you have packed for your trip, and have everything you need you will have nothing else to worry about. We'll look after the other details of your Uganda safari so that you can focus on enjoying your safari.
We hope this luggage and packing guide has given you a foundational idea about how you can best pack for your Uganda safari with us. Feel free to ask us any questions you have about packing for your trip.
Related articles