Seeing gorillas in the wild is one of the most exciting wildlife experiences. Over the years, we have taken a number of tourists to see gorillas in Uganda and Rwanda and the experience is still as exciting and rewarding as ever.
To make the most of this once-in-a-lifetime experience, thorough preparation is key. One of the crucial aspects of preparation is packing the right gear and essentials.
Below is a detailed packing list for gorilla trekking to ensure your comfort, safety, and enjoyment during this incredible journey.
Much as the article tries to be extensive, feel free to talk to us about any questions regarding your preparation for a gorilla trekking safari. We love hearing from you and will try to be helpful.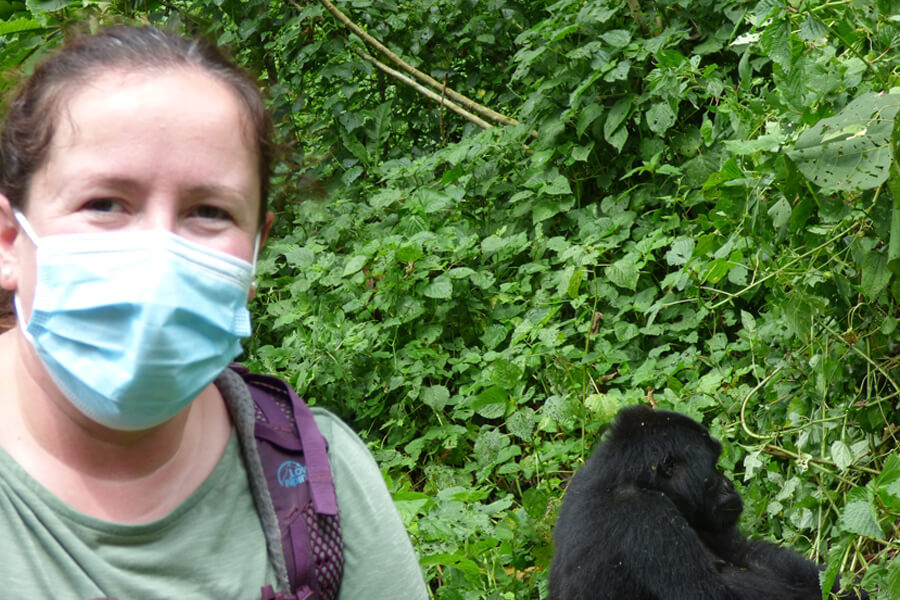 Clothing and Footwear
1. Long-sleeved Shirts and Pants
The rainforest is full of all sorts of plants and insects. Long sleeve shirts or blouses. Lightweight breathable long-sleeved shirts or blouses help keep those scratches and insect bites to a minimum.
Trousers can be tucked in to keep ants from crawling into your legs. Neutral-colored clothing can also help you blend into the environment and avoid startling the gorillas.
2. Warm Jacket / sweater
Mountain gorillas live in high-altitude areas where night and morning temperatures are really low. Gorilla trekking starts early in the morning when it is still cold so a warm sweater will be helpful in managing the conditions.
3. Rain Jacket / Poncho:
Weather in the rainforest is unpredictable. It can rain at any time of the day in any month of the year with little notice.
Inasmuch as you might be visiting in the middle of a dry season, a light rain jacket or poncho will keep you and your items dry during unexpected showers.
4. Hiking Boots
A good pair of hiking boots is absolutely essential when it comes to hiking – especially on the steep slopes of thick rainforests. Preferably, your hiking shoes should be well worn which makes them a perfect fit.
Hiking boots made with a thicker upper and firm midsole provide good support and stable traction for your hike.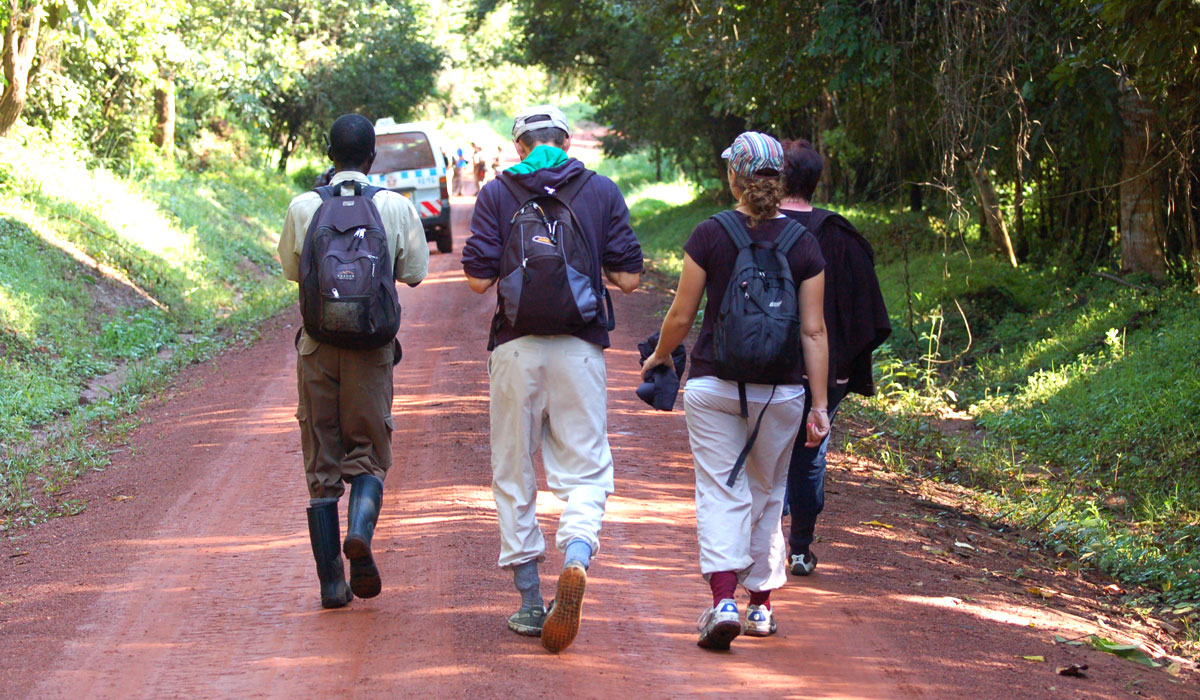 5. Gloves
During your gorilla trek, you will be holding on to all kinds of plants and roots for support. A decent pair of hand gloves protect you from abrasions and injuries and help you maintain a good grip on vegetation during the trek.
Additionally, if you have skin allergies or sensitivities, it is best to not directly touch thousands of rare plants in a short time. The gloves also provide warmth during chilly mornings.
6. Face masks
After the corona virus pandemic, we have all learned to carry an extra face mask or two. In the case of gorilla trekking, this is to make sure you don't transfer any communicable disease to the gorillas or your fellow humans. A mask protects you and others and is always good to carry.
7. Wide-brimmed Hat
A wide-brimmed safari hat is usually ideal for protecting your head and neck from the scorching African sun. While a baseball cap can work, it does leave the neck exposed.
Many visitors choose to buy safari hats from the local shops near the parks as souvenirs and as a way of supporting the locals directly.
8. Socks
Moisture-wicking, cushioned socks to prevent blisters and keep your feet dry. A pair of long tuckable socks keep the ants and other crawling creatures from entering your pants.
9. Gaiters
While not essential, gaiters help protect the feet and lower legs from moisture and mud during the trek. The thick rainforests are very misty and humid, especially in the mornings, and gaiters can come in handy.
If you are trekking mountain gorillas in the rainy season, the gaiter will be even more useful.
Essential Gear
10. Daypack
A small, comfortable daypack is essential for carrying your water, snacks, camera, and other personal items during the trek. With all the items listed in this packing list, you will need some way of carrying them and a backpack is the most ideal.
Keeping it light is important since the trek to see gorillas may get tough. If there is something you don't need, leave it at your lodge/hotel and don't deal with the unnecessary weight.
11. Binoculars
Enhance your wildlife viewing experience by getting a closer look at the gorillas and other wildlife. While your main mission is to see gorillas, you will see a lot more.
These gorillas live in unbelievable wild ecosystems teeming with all kinds of life. And while you are on your trek, you will see many birds, monkeys, and small land mammals.
Binoculars are especially handy for birds since places like Bwindi do have some bird species you won't find anywhere else in the world.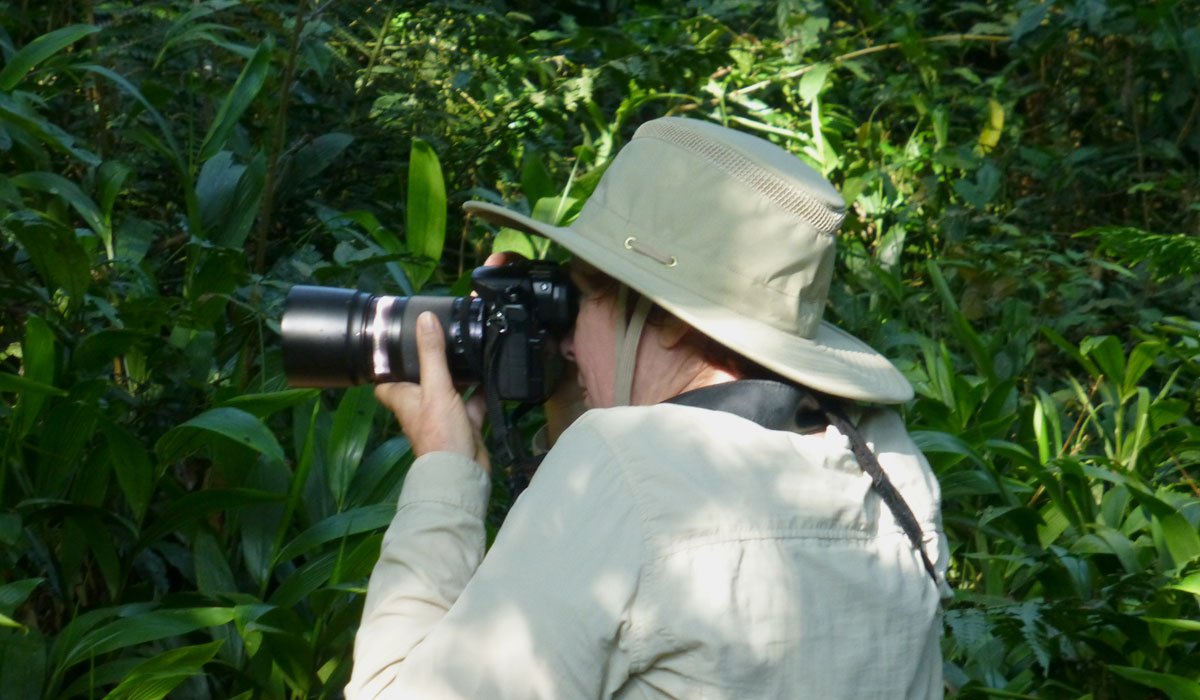 12. Camera
Seeing gorillas live in their wild habitat is a wonderful opportunity that many people hope to get someday. Photos and videos have a way of capturing a moment in time, and such great memories should be captured.
Carry a camera for capturing those moments. Get used to your camera and all the settings such that your photos and videos come out as great as you want them.
Related article: A guide to photography on your safari
13. Reusable Water Bottle
Your gorilla trek will expend a lot of energy and soon enough you will be thirsty. Carrying bottled water will help you to hydrate and rehydrate so that you can keep all your focus on the experience of trekking and looking for gorillas.
A reusable water bottle is a great way to carry the water into the forest, without using any single use plastic.
14. Insect Repellent
Insect repellants can help keep insect bites away. With so many insects in the forest ecosystem, it is better to avoid all the irritation and likely illness that can come from insect bites.
You are advised to spray your trekking clothes and bag before starting the hike. If you have sensitive skin, make sure to get a brand that won't irritate your skin.
15. Sunscreen
Protect your skin from the sun's radiation by carrying some sunscreen with you. We advise you to buy from big cities and towns because you might not be able to find sunscreen in the small towns near the gorilla parks.
Additionally, if you prefer a certain brand of sunscreen that might not be locally available, travel with it from home.
16. Sunglasses
Sunglasses are essential when traveling through most of Sub-Saharan Africa because they protect your eyes from direct sunlight. In the case of gorilla trekking, you might need to look at some monkeys or birds up a tall tree and you wouldn't want direct sunlight hitting directly into your eyes.
Personal Items
17. Personal Identification and Permits
Ensure you have a valid passport, necessary visas, permits, and any other required documents for your travel.
Remember to purchase a gorilla trekking permit before traveling. A gorilla permit allows you to enter the forest in search of endangered mountain gorillas.
There is a limited number of gorilla permits for each day and these permits must be purchased in advance. Sometimes the gorilla permits are sold out for several months.
As your tour operator, we do purchase these permits on your behalf such that when you come for your gorilla trekking safari, everything is set and ready for you.
18. Cash
Carry local currency for tips, souvenirs, and any incidentals. You may also need to hire a local porter to help pull and push you during the trek. Even if you are a truly experienced hiker, gorilla trekking is far from a walk in the park.
The terrain is steep, the forest is thick and you will get a full-on exercise before you even reach the gorillas. The porters are used to the terrain, and the money you give them goes directly toward helping them and their families.
19. Toiletries
This can include a wide range of items depending on the length of the trip like a toothbrush, toothpaste, biodegradable soap, and wet wipes for maintaining personal hygiene.
On the real day when you are going to see the gorillas, it is good to have some items just in case. We recommend carrying some tissue paper in case you need to ease yourself while you are still deep in the forest.
20. Snacks
As we have already said, gorilla trekking is not a quick walk and you will get tired. Having a snack or two can help energize you and keep your sugar levels and spirits high.
21. First Aid Kit
Bring any personal medications you may require, along with a basic first aid kit containing bandages, antiseptic wipes, pain relievers, and any specific medications you might need.
Final Thoughts
A packing list ensures you have everything you need to fully enjoy your trip or activity. When you're adequately prepared, you can focus on making memories, experiencing new things, and immersing yourself in the moment.
With the above items, you will be able to enjoy the entirety of your gorilla tracking activity – come rain, sunshine, or steep slippery slopes.
Experienced hikers might choose to ignore an item or two, but we believe you would rather have something and not need it, instead of needing something when you can't get it.
So, pack your essentials, embody a spirit of adventure, and get ready to go on an unforgettable journey where every moment is a step closer to the incredible encounter with the majestic mountain gorillas and the untamed world they call home.
Related articles