Are you planning a trip to Tanzania? Before you start packing your bags and booking your flights, you need to know about the visa requirements. Tanzania has several different types of visas depending on the purpose of your visit, and it's important to understand which one is right for you.
Tanzania is a beautiful country located in East Africa, known for its stunning landscapes, diverse wildlife, and vibrant culture. If you're planning a trip to Tanzania, you may need to apply for a visa depending on your nationality. We'll cover everything you need to know about the Tanzania visa below.
A visa is an official document that allows you to enter and stay in a foreign country for a specified period of time. Without a visa, you won't be able to enter Tanzania.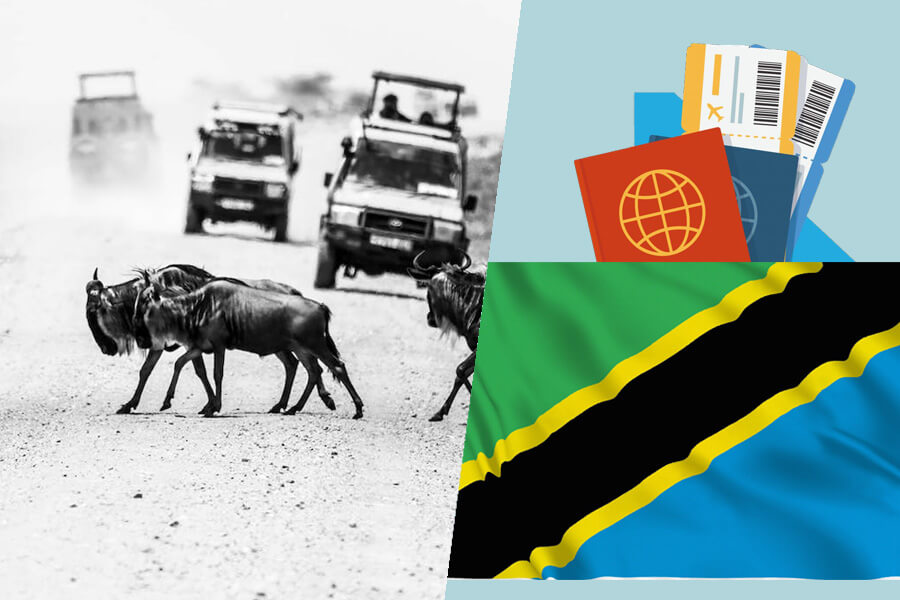 Types of Tanzanian Visas
Tanzania offers several types of visas depending on the purpose of your visit. The most common types of visas include:
Ordinary Visa (Single Entry): This type of visa is for those who are planning to visit Tanzania for a short period of time, usually for tourism or business purposes. It is valid for up to 90 days.
Business Visa (Single Entry): This type of visa is for those who are visiting Tanzania for business purposes and will be staying for up to 90 days.
Multiple Entry Visa: This type of visa is for American nationals for holiday/tourism and other purposes, and for frequent visitors for up to 12 months.
Transit Visa: This type of visa is for those who are passing through Tanzania on their way to another country valid for up to 7 days.
Gratis Visa: for diplomatic, services, or official passport holders and their dependents, and for ordinary passport holders as directed by immigration authorities.
Other Visas: for volunteers, students, researchers, and others as determined by immigration authorities.
Tanzania Visa Exemption
Here is a list of countries whose nationals do not require visa to enter the United Republic of Tanzania.
| | | | |
| --- | --- | --- | --- |
|  Antigua & Barbuda |  Anguilla |  Ashmore & Cartia Islands |  Bahamas |
|  Barbados |  Bermuda |  Belize |  Brunei |
|  British Virgin Islands |  British Indian Ocean  Territory |  Botswana |  Burundi |
|  Cyprus |  Cayman Islands |  Channel Islands |  Cocos Islands |
|  Cook Islands |  Christmas Islands |  Dominica (Commonwealth of Dominica) |  Falkland Islands |
|  Gambia |  Ghana |  Gibraltar |  Grenada |
|  Guernsey |  Guyana |  Heard Island |  Hong Kong |
|  Isle of Man |  Jamaica |  Jersey |  Kenya |
|  Kiribati |  Lesotho |  Malawi |  Montserrat |
|  Malaysia |  Malta |  Mauritius |  Macao |
|  Mozambique |  Nauru |  Niue Island |  Norfolk Island |
|  Namibia |  Papua New Guinea |  Rwanda |  Romania |
|  Samoa |  Seychelles |  Singapore |  Swaziland |
|  Solomon Island |  St. Kitts & Nevis |  St. Lucia |  St. Vicent |
|  St. Helena |  South Africa |  South Sudan |  Trinidad & Tobago |
|  Turks & Caicos |  Tokelau |  Tonga |  Tuvalu |
|  Vanuatu |  Uganda |  Zambia |  Zimbabwe |
Tanzania Visa Requirements
The requirements for a Tanzanian visa may vary depending on your nationality and according to the type of Visa. However, generally, you will need:
A valid passport: Your passport must be valid for at least six months beyond your planned date of departure from Tanzania.
A completed visa application form: You can find the visa application form on the Tanzanian embassy or consulate's website or through the Tanzanian Immigration Department's e-visa portal.
A passport-size photo: You will need to provide a recent passport-size photograph of yourself.
Respective visa fee depending on the type of Visa
Supporting documents: You may also need to provide additional documentation, such as a letter of invitation, a return ticket, and proof of sufficient funds.
How to Apply for a Tanzanian Visa
You can apply for a Tanzanian visa at a Tanzanian embassy or consulate in your home country or online. The online visa application process is available through the Tanzanian Immigration Department's e-visa portal. Here are the steps to apply for a Tanzanian visa online:
Visit the Immigration Services Website (www.immigration.go.tz)
Click "e-services" button;
Select and click "e-Visa Application Form";
Upload and attach the applicant's scanned relevant documents for the Visa;
Then, the applicant will receive an e-mail message containing User Identification Number (that may be used to track the application online);
After completion of filling an online visa application form, the applicant will have to pay for a for respective visa fee;
Upon successful payment, the applicant will submit his application;
Lastly, the applicant will receive a message of confirmation of his application being received.
Most applicants will receive their online visa via email within 6 working days after submitting the form. Travelers must print a copy of the e-visa. This must be shown to an official at Tanzanian border control to enter the country.
Visa Fees and Validity
The visa fees for Tanzania vary depending on the type of visa you are applying for and your nationality. Tanzanian visas are usually valid for up to 90 days for single-entry and up to 12 months for multiple-entry visas.
Business visas are valid for up to 3 months.
TYPE OF VISA
VISA FEES IN USD
ORDINARY (SINGLE ENTRY) VISA
50
MULTIPLE ENTRY VISA
100
BUSINESS VISA
250
TRANSIT VISA
30
STUDENT VISA
50 (Single 3 Months)

250 (Multiple 1 year)

300(Research 6 Months-Multiple)

550 (Phd Student 1 year-Multiple)

GRATIS VISA (DIPLOMATIC)
GRATIS (NONE)
Important to Note
All visitors wishing to come for tourist purposes are required to apply for ordinary visa EXCEPT American nationals (USA Passport holders) who are required to apply for Multiple Visa;
If an applicant wishes to visit both Tanzania Mainland and Zanzibar, he/she is advised to select his first destination while filling the form
The nearby Embassy is regarded as the Embassy closest to where the applicant is while applying for Visa, and If required, the applicant may be called to appear physically to that Embassy for interview.
Every Passport holder is required to have his/her own Visa application submitted. In this case, even minors who are filled in their parents' Visa applications must have their own separate Visa applications submitted.
Once Visa application is submitted, no further changes may be done and effected to such applications. If for any reasons there will be some mismatch in information on the issued visa or flight changes which affects the arrival or departure date, the applicant will communicate this to the relevant immigration authority for guidance or assistance.
Business Visa is not a substitute for Residence Permit. As such, it cannot be extended nor renewed while the holder is still in the country.
Multiple Visa is not supposed to be used as a Residence Permit. The holder can stay at a maximum for 3 months in each visit. This does not mean that, a holder should be staying for 3 months, leave for a while and come back for another 3 months.
Transit Visa is strictly for applicants who wish to pass through the United Republic of Tanzania to other countries and MUST be supported by onward ticket and Visa (If applicable) to such other country. Visiting Tanzania for tourism for few days does not warrant applicant to apply for Transit Visa.
All applicants (travelers) MUST show their return ticket upon arrival.
Conclusion
A Tanzanian visa is necessary for many travelers visiting this beautiful East African country. It is important to determine the type of visa that suits your purpose of travel and apply for it in advance to avoid any last-minute delays or complications.
Remember to also check the validity of your passport and ensure that it has enough blank pages for the visa stamp.
Overall, with the right preparation and attention to detail, applying for a Tanzanian visa should not be a difficult task. With a little preparation, you'll be able to enjoy all the wonders that Tanzania has to offer.
Related articles