This chimp tracking guide tells you all you need to know as you prepare for your chimpanzee tracking safari in Uganda.
The Chimpanzee – an inhabitant of the western rain forests is a species among the Primates world. Also known as human's closest living relative which shares about 98% of our DNA.
In Uganda, Chimpanzee Trekking is one of the most popular tourist activities with the other being gorilla trekking. The experience involves you trekking into the forested areas with an experienced guide in search of the chimps which live in communities.

Where to see chimps in Uganda
1. Kibale Forest National Park
Kibale National Park is the premium Chimpanzee tracking location in the whole of Africa where you will see more than 13 primate species – including chimpanzees. That's why it's also known as the primate capital of the world.
According to the recent census, there is a total of more than 1500 chimpanzees are found here. Chimp trekking is best in the morning hours when chimps are leaving their nests or in the evening hours.
The chances of seeing the chimpanzees during your tour are more than 90% and guests are allowed to spend a maximum of 1 hour with the chimps.
The Kanyanchu primate walk which is the most recommended will get you to see many other primate species including many kinds of monkeys.
2. Kyambura Gorge, Queen Elizabeth NP.
While Queen Elizabeth National Park is famous for its savannah wildlife, the Kyambura Gorge hosts a thick forest that is home to some chimpanzees. This means that your trip to Queen Elizabeth National park can include looking for these chimpanzees.
The chances of seeing chimps in Kyambura Gorge are not as high as in Kibale and this is due to the limited numbers and different local ecosystems. Your tracking usually takes between 1 and 3 hours depending on the location and movement of chimps on your day of visiting them.
You can decide to track either in the morning hours at 8:00 AM or in the afternoon at 2:00 PM.

3. Toro-Semliki Wildlife Reserve
Tourists can also enjoy Chimpanzee tracking at Uganda's oldest wildlife reserve. The Semliki reserve also has a diversity of wildlife, which includes forest mammals and a variety of birdlife.
The Mugiri forest river in Semliki is remarkably rich in primates especially chimpanzees with over 70 individuals. Guided nature walks around Ntoroko are also available.
The Toro-Semiliki Wildlife Reserve can be visited along with the neighboring Semuliki National Park which is popular for birding, hot springs, and unique natural flora that is a blend of Eastern and Central Africa.
4. Budongo forest
The Budongo Central Forest Reserve is another place tourists can get to see the chimpanzees in Uganda. It is located near Masindi town towards Murchison Falls National Park.
The forest has trails crisscrossing to ease access for researchers and eco-tourists who frequent here. The chimpanzee tracking here also starts at 8:00 AM in the morning and 2:00 PM in the afternoon with an 80% chance of seeing the chimps.
Best time for Chimp Tracking in Uganda
Uganda lies along the Equator and is always warm. The only difference in seasons is usually in the amount of rainfall and how often it rains in a certain period.
Because you will be visiting tropical rainforests to these wild chimps, you should expect some rain at any time of the year. We advise that you visit during the dry season months when the chances of rain are low and the rain will be a slight pour.
The best months to visit Uganda for chimpanzee tracking are the dry season months of January, February, and between June, and August. The dry season months make it a bit easier for you to move around in the thick forests.
Other months of March, October, and December include a little rain but you can still get to enjoy chimp tracking at any of the places around Uganda.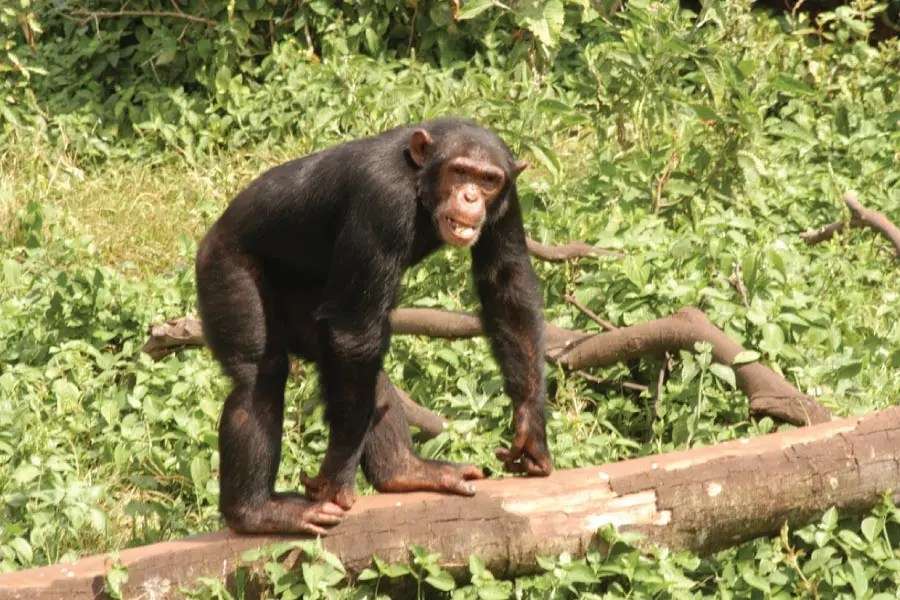 Chimpanzee Tracking Permits & Costs
For conservation reasons, there is a limit on the number of people who can visit chimpanzees in their wild environment. This is an effort to make sure that tourism doesn't interfere with their natural lives.
For this reason, for you to track chimpanzees you need to purchase a permit that allows you entry for a specific day of chimp tracking in any of the protected areas. The cost of a chimpanzee tracking permit in Kibale is 200 USD per person.
It is advisable to book the permit weeks before your tour to allow ease of planning. If you are traveling with us, we'll purchase the chimp permits on your behalf ahead of time – to make sure all preparations are done before the safari starts.
Additionally, the permits to places like Kibale National Park are limited when it's a high season since only a limited number of visitors can see the chimps every day.
Related articles